Smart Factory
To reach the goal— Smart Factory, we've been committed to upgrading automated production, decreasing manual handling, boosting production efficiency, and advancing manufacturing quality.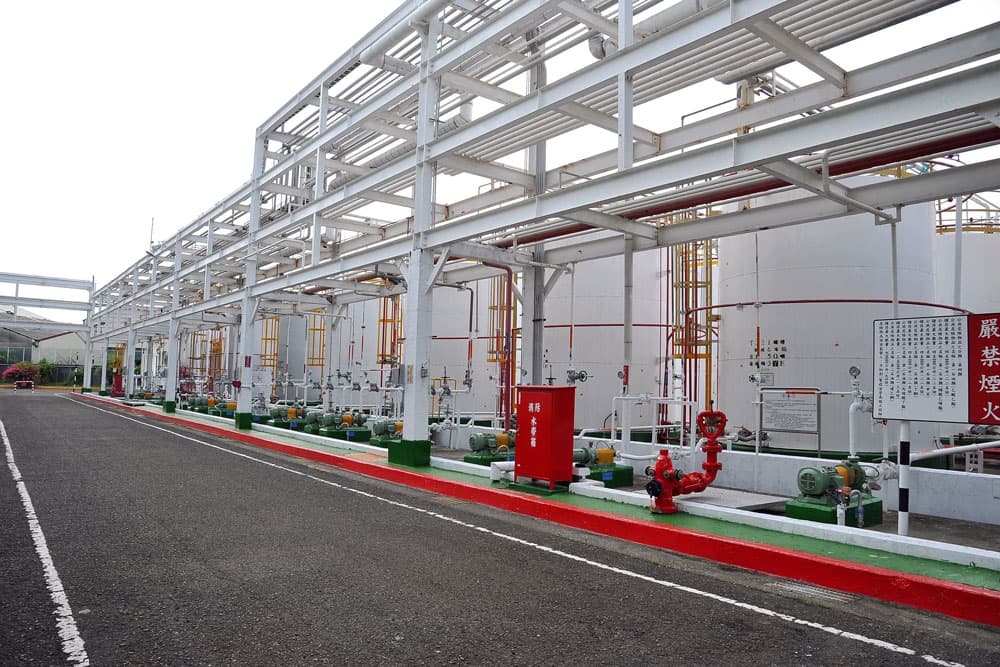 Safety Facilities
We value plant safety the most, and that's why we strive for certifications of OHSAS 18001 and ISO 14001 . First of all, fireworks are prohibited in Linyuan plant where it complies with the fire code with establishments of fire safety facilities and gas monitoring systems. Moreover, electrical equipment is respectively installed in raw material, polymerization, and finished product silos where they are all equipped with explosion-proof equipment accredited by Industrial Technology Research Institute. As a result, we guarantee our staff an extremely safe environment.
Environmental Technology
There are exhaust gas treatment systems established in Linyuan plant, and we take full advantage of them to well manage exhaust gas by connecting totally closed pipelines to the low-temperature catalyst incineration system. More importantly, we strictly abide by the standards of Air Pollution Control Act, ensuring that exhaust gas is without any harm after being filtered and processed via the gas treatment unit (GTU). By this time, gas can completely be discharged, and air pollution can maximumly be reduced. In short, we strive for environmental sustainability.
Wastewater Treatment
Industrial wastewater is resulted from the manufacturing process of solvent cement, so we began by advancing the manufacturing process to reduce wastewater. For example, we integrate the breakup of emulsion technology and chemical treatment into the biological treatment to eliminate Chemical Oxygen Demand (COD) effectively. Later, clean water is discharged into industrial areas for wastewater treatment via the sedimentation process and separation technology in settling basins. Next, we assign qualified companies for waste disposal after sludge becomes sludge cake through a filter press. Besides, to comply with requirements of Environmental Protection Bureau and Air Pollution Control Act, we install covering structures on wastewater treatment facilities to prevent Volatile Organic Compounds (VOCs) from diffusion. Finally, to abide by the standards of VOC Air Pollution Control Act, we strive to implement oxidation treatment and gas reduction.